As an Industry Leader in Business Technology, System Communications is the best choice for your company's structured cabling system.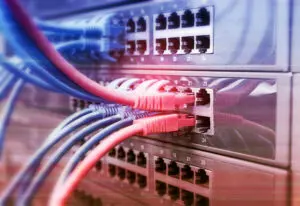 Expert Infrastructure Maintenance
Security installations are a critical function of a well-built IT infrastructure. The backbone of this infrastructure is a well-designed, robust structured cabling system. A well-designed structured cabling system, in which it is easy to integrate the latest technologies, helps your business stay ahead of the competition, while reducing overall infrastructure costs. With over 25 years in the telecommunications and cabling industry, our team of technicians provides expert level technique and follows industry standard best practices to ensure that your structured cabling system is secure and functional.
System Communications specializes in structured cabling design, installation and infrastructure upgrades, so whether it's CAT5e, Cat 6, Cat 6a or fiber optics, we can help. Our experienced team of experts has provided network cabling installation services and overseen end-to-end network structured cabling solutions for a variety of industries in both the commercial and government space.
From a single voice or data run to a complex project involving multiple floors or sites, the team at System Communications can build a solution for your business. We help from the design stage until implementation to ensure that your network runs smoothly. Contact us today!
Service Areas:
Category 5 and 5e Data Cabling

Category 6 and 6a Data Cabling

Certification for Network Cabling Systems

Fiber Optic Installation, Termination, and Testing

Patch Cords and Patch Panels

Single Mode or Multi Mode Fiber
Do you need help with your telecommunications system?

Fill out this form to get in touch.
System Communications is the most reliable, knowledgeable, and honest, business in their field. They installed a phone and security camera system for my school and we are very pleased with the outcome.
System Communications has been very helpful to my practice in getting it set up with a telephone system that I can rely on. They have been responsive to my needs and questions.
We have been clients for many years. They are always very helpful whenever we are having service-related issues/equipment issues and are so efficient in resolving them in a very timely manner. We definitely highly recommend them!